HD Broadcasting Hardware Requirements
HD Wave broadcaster requires a modern PC running a Window 7, 8 or 10 Operating Systems or a Macintosh OS starting with version 10.7. If you are capturing the desktop you will need to have a machine that is at least as powerful as the examples given below for the 1080p and 720p broadcasts 김씨네 편의점 시즌1 다운로드.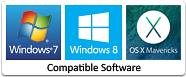 If streaming an external video source (from capture card or camera) then the following PC requirements apply based off of the video source you would like to stream movie Moana.
Minimum Broadcasting Requirements:
1. 1080p FULL HD (1920×1080) [Only Available With Optional Broadcasting Module]
CPU: Intel Core™ i7 Extreme i7-975 3.33GHz or Intel Core™ i7 Extreme i7-965 3.2GHz or AMD Multi Core processors (AMD FX 4-Core Processor, AMD FX 6-Core Processor, AMD FX 8-Core Processor)
Memory: 4GB – any DDR3 memory
Available HD SPace: 10MB or more available disk space
Operating System: Microsoft Windows 7, Windows 8 or Windows 10
Bitrate: 2000 Kbs recommended
2 카카오그룹 pc버전 다운로드. 720p HD (1280×720) [Only Available With HD Wave Module]
CPU: Intel Core 2 Quad 3GHz or faster; AMD A-Series processor or faster
Memory: 4GB
Available HD Space: 10MB available disk space
Operating System: Microsoft Windows 7, Windows 8 or Windows 10
Bitrate: 1200 Kbs and up recommended
3 도봉순 다운로드. 480p HD (854×480)
Bitrate: 512 Kbs recommended
CPU: Intel Core 2 Duo 2.66GHz
Memory: 1GB
Available HD Space: 10MB available disk space
Operating System: Microsoft Windows 7, Windows 8 or Windows 10
Bitrate: 512 Kbs and up recommended
Browser Based Broadcast Requirements
This applies to Standard Web-Based Broadcaster Console
A 카렌다맞고 2014 다운로드. Microsoft Windows 7, Windows 8 or Windows 10
CPU: Intel Pentium II 450MHz or AMD Athlon 600MHz
Memory: 128MB of RAM
Available HD Space: 10MB available disk space
Bandwidth: 200 Kbs and up
B Free jar games. Macintosh
Mac OS X v10.4 or later (PowerPC)
Mac OS X v10.4 or later (Intel)
Mac OS X v10.6
CPU: PowerPC G3 500MHz or Intel Core™ Duo 1.33GHz
Memory: 128MB of RAM
Available HD Space: 10MB available disk space
Bandwidth: 200 Kbs and up
C Download bouncing south. Linux
Red Hat Enterprise Linux (RHEL) 5
OpenSUSE 11
Ubuntu 7.10 or later or 8.04 or later
CPU: Modern processor (800MHz or faster)
Memory: 512MB of RAM
Available HD Space: 10MB available disk space
Bandwidth: 200 Kbs and up